The OC-Melbourne Home Entertainment PC (HEPC) Mod


Introduction
With the release of PC-DVD drives and codecs such as "DivX", PC's began to be included in home theater systems. While the cost of buying an entire PC simply for playing DVD's on is a little exorbitant, since standalone DVD players can be had for under AU$200, while an entire PC may cost over AU$500. What if, however, this PC could do more than just play DVD's. Ever tried playing your favourite PC game on a big-screen TV? What about emulating your favourite console on the PC and also playing that on the TV (NB: only use an emulator if you own the console and the game that you are emulating, as not doing so is effectively stealing). Do I even need to mention DivX?
So now we have a PC that is capable of replacing many separate devices (such as a DVD player, and consoles), but lets admit it, that big beige case probably looks far worse than the hardware its replacing. Some people have gotten around this by using specialised cases such as those from Shuttle, or fancy aluminium cases such as those from LianLi. These cases, however, still don't integrate seamlessly into modern home theater systems, as they still maintain their "PC" look.
Enter the OC-Melbourne HEPC...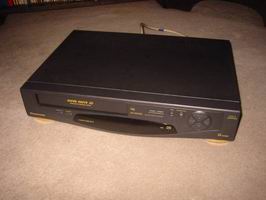 As you can see from the image above, the OC-Melbourne HEPC is a one of a kind mod, which has not been attempted (from my knowledge) to date. Sure there have been Home Theater AMP mods and similar, but this case provides functionality and seamless integration into modern home theater setups.
Read on for more specs, and a walkthrough of the creation process.
<< Home || Next - Hardware Specifications >>