Topower TOP-420P4 420W ATX Power Supply
Introduction
When building up a new system, an all too common mistake is that people overlook the power supply. They will be happy to spend over $2000 on a system with abosolutely breathtaking specifications, only to plug it all into an under-rated generic power supply, and then wonder why it is constantly crashing!?! Simply put, there's no point having an ultra powerful gaming system if the power supply cant even supply enough power to keep it stable in windows.
These days, buying a power supply isn't just about its power ratings, it's also about its looks, and noise production. Today we look at Topowers TOP-420P4 420w ATX Power Supply.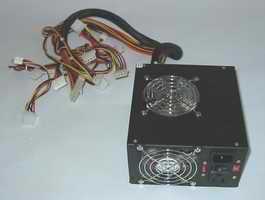 Read on for the units specifications...
<< Home || Next - Specifications >>