LIUtilities WinBackup
Introduction
Data backups have long been a part of a network administrators daily routine, but as far as many home pc users are concerned, data backups are an unnecessary waste of time. For overclockers/tweakers, however, data backups can be a lifesaver, as quite often a registry tweak may go wrong, or a new FSB speed may put the PCI bus out of specification, causing data corruption.
The product we are looking at today aims to make the backup procedure a seemless, simple task, that could be performed by almost all home PC users.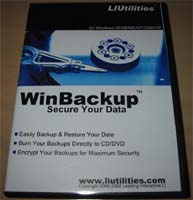 NOTE: All images in this review are zoomable. Click to zoom.
< < Home || Next - Package Contents >>