Ricoh PCI-PCMCIA Adaptor
Specifications
PC97/98/99/2001 compliant
- Setting of Subsystem ID and Subsystem Vendor ID by Serial EEPROM interface
- ACPI 1.0 and PCI Bus Power Management 1.1 compliant
- Global Reset support
- Hardware Suspend, CLKRUN# support
- Compliant with PCI Local Bus Specification2.2
- 33MHz of the maximum frequency
PCI Bus Interface
- Compliant with PCI Local Bus Specification2.2
- The maximum frequency 33MHz
- PCI Master/Target protocol support
- Direct connection to PCI bus
- 3.3V interface (5V tolerant)
CardBus PC card ·PC Card-16 Bridge
- PC Card Standard 7.0 compliant
- Compliant with i82365SL compatible register set / ExCA
- Distributed DMA support
- Zoomed Video Port (Bass type) support
- CardBus master/target protocol support
System Interrupt
- INTA# support for PCI system interrupt
- IRQn support for ISA system interrupt (Non shared IRQn pins)
- PC card LED support

Features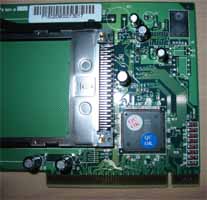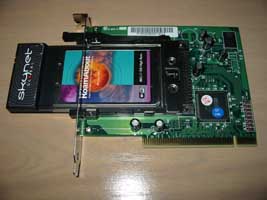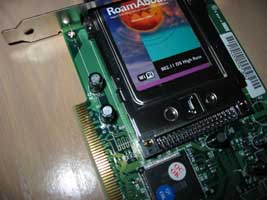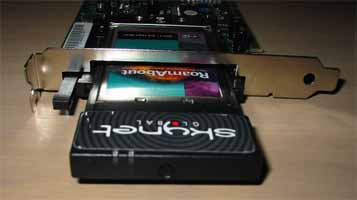 Cardbus Support
The adaptor has the ability to support both the now semi-outdated 16-bit (Card-16) specification and the new CardBus (Card-32) specification PCMCIA Cards, therefore supporting any current PCMCIA card.
Hot Swapable
Cards used in this adaptor can be inserted and removed at any time, including whilst the PC is turned on, much like a laptop's PCMCIA port. If you want to change the brand of your wireless adaptor, for instance, you simply press the removal button, take out the old card, and insert the new one. If you are using Windows, then the card will be auto detected and you wont have to do anything else (except put the driver disk in if it uses nonstandard drivers).
PCI Interface
Being a PCI based adaptor, any cards placed within this adaptor will ustilise the dedicated PCI bus, instead of CPU processing power which USB devices are known to devour, allowing for the best possible system performance.
< < Previous - Introduction || Next - Installation >>